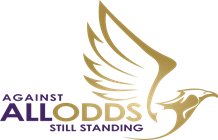 'Against All Odds...I Survived' 

Kindle Edition
Fikelephi Jackson is the author of the book entitled "Against All Odds:I Survived!" Fikelephi was nominated in the arts category for recognition for an BEFFTA award as an author.
Her autobiography genre tells of her true and personal life experiences. It tells of her struggles, challenges and disappointments and how against all odds she survives. As you read this book, from start to finish, the factual account of her story gets more and more compelling. It becomes, gripping with positive anticipated expectations as the reader wills on the lead character. One can't help but to find that you support her and take up her side against all the odds, which she encounters, with excitement, wonder and awe. It's an emotional roller coaster of a ride, with some sadness, yet with great joy, as you get the sense of real achievement and purpose that inspires and motivates the reader. It is a true test of faith and of; tempting fate; Yet still against all odds, she manages to survive.
It further, calls to attention to a worthy cause on domestic abuse that hopes to bring about more public awareness. It furthermore, brings a message of hope, liberty and restoration, making the book as an empowerment tool. The book is endorsed by renowned personalities, including Muzvare Betty Makoni, the late Senior Pastor Michael Olawore and Pastor David Adabale, author of the 'Diamond Believer'.
Fikelephi can also testify to many people whom she has help over the years and hopes to reach out to many more, hence her reason for writing this book. She is also a mentor and speaker. Fikelephi has featured on radio stations and TV shows and continues to touch and transform lives wherever she goes. Princess Deun Adedoyin-Solarin of Arize TV show has declared Fikelephi as an `Agent of Change'
Pastor Michael of New Wine Church in London, says,
"if we must experience positive change in our society, we need people like Fikelephi to arise and give hope to the hopeless. And there could probably be no more opportune time than now, when we are being challenged to take responsibility for our communities and our society. The gauntlet has been laid down and the launch of Against All Odds…is a timely and welcome response"
Pastor David, an executive coach and Director also writes, "'Against All Odds'book is an incredible tool that will transform and inspire you regardless of the challenges you are facing right now."
If you give this particular book a chance to read, you will not be disappointed. In fact you will be very grateful for such insights.
Funds raised for the book sales, goes towards Charity