📍Breaking News‼️@ Against All Odds we are hitting the ground running in 2023. AOS Celebrating 10 Years of:
▪️Rebuilding Lives
▪️Restoring Hope
▪️Regaining Dignity
📍Grab your tickets now. Our Early Bird Tickets are on Sale now
📍
DEADLINE FOR ADVANCE ONLY TICKETS IS BY THE 9th APRIL 2022, BUT THE SOONER THE BETTER, FOR THE SMOOTH RUNNING OF THIS EVENT.
FANTASTIC VALUE! ALL FOR GREAT ENTERTAINMENT | SCRUMPTIOUS THREE COURSE DINNER | DANCE, DANCE, DANCE | FREE CAR PARKING | RAFFLE PRICES | AUCTION | ALL FOR A MUCH-NEEDED AFRICAN CAUSE.
Accommodation available at special rates, but do contact us with your details to book, but must be well in advance to secure the rate and room.
Come and join us at the Double-Tree-by-Hilton Dartford Bridge Hotel. We will follow Government guidelines due to the Coronavirus (COVID-19) pandemic to keep you safe.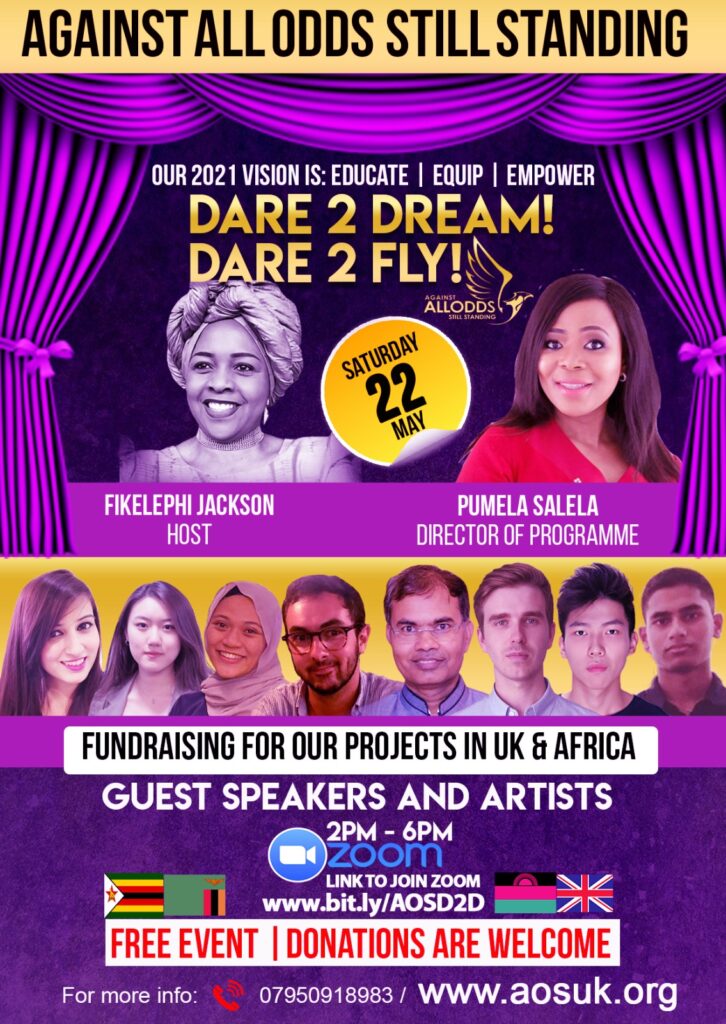 Dare to Dream! Dare to Fly! ~ AOS Virtual Anniversary Event
AOS VIRTUAL FUNDRAISING ANNIVERSARY PARTY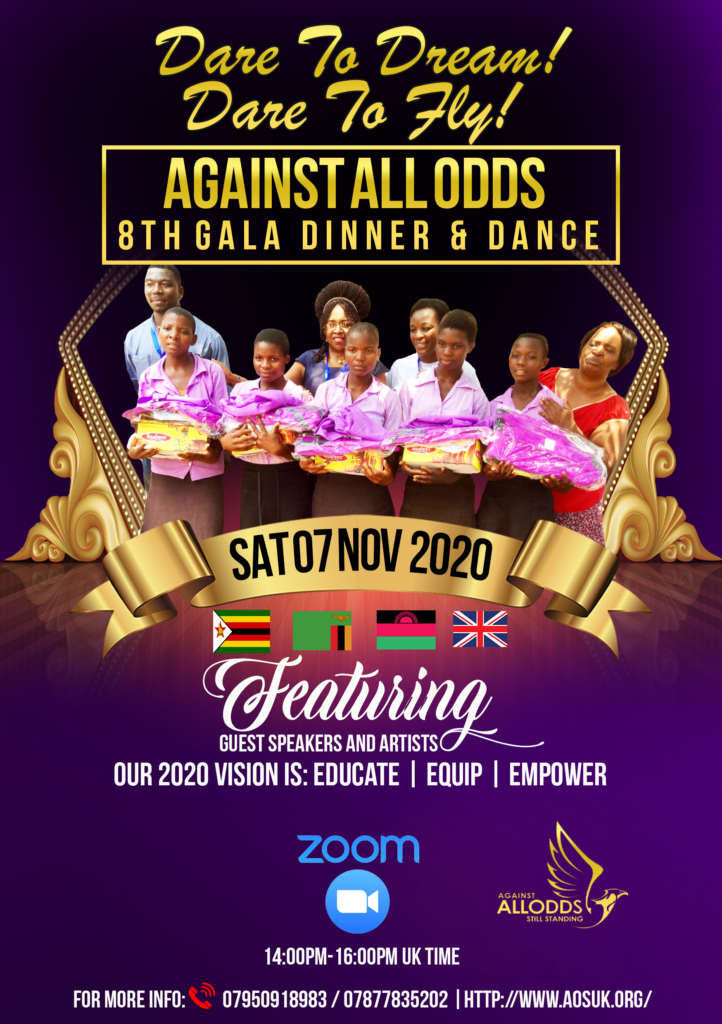 Against All Odds Still Standing Charity Team has invited you a Zoom DareToDream! DareToFly! AgainstAllOdds Virtual Fundraising 8th Anniversary 2020.
When:
📍 Nov 7th 2020 02:00 PM London (UK Time)
Register in advance for this Special Event:
https://us02web.zoom.us/meeting/register/tZ0lduyhrzssHNFEvWFgYTSAaUwGeZ0WeAZh
After registering, you will receive a Confirmation Email containing information about joining the meeting
Meanwhile share the your friends & family for more information visit ourwebsite www.aosuk.org or contact +447940918983 +441322227900
Dare To Dream! Dare To Fly! Against All Odds | Zoom Virtual Party (8th Anniversary) Schedule – Saturday 7th November 2020 | 2 hrs + 1 hour Q & A hour Mingling
📍Opening prayer by Pastor David Adabale (3 mins)
📍 Jemi/ Thuli Opening song (4 mins)
📍 Pumela Salela MC -Introduction & House Rules/Different Avenues on how to support & Donate 5 mins
📍CEO Fikelephi Jackson speaks Appreciate the Team & S 5min
📍 Pumela observe protocol recognises our Board, Patron, Sponsors & our Team (3mins)
📍Song by *Bella Jackson sings / (3mins)
📍 Pumela call for ACTION
📍Patrons Speaks Mo Mentors 5m & Dr Pauline
📍 Pumela Introduction: Malawi | Zimbabwe | Zambia 5 mins
▪️Entertainment / Advertisement / Amazon 5
📍 Malawi 🇲🇼 Speaks
▪️Beneficiaries & Headmaster Mr Steve Kungala
15m
▪️ Brenda Chombo Banda AOS Malawi
▪️ Gertrude Chirambo 5 on Women & Girls Empowerment
▪️ Allan Banda 5 on Boy-Child
📍 Pumela call to ACTION
▪️Entertainment / Advertisement/Monthly STD 5 mins
📍 Zimbabwe 🇿🇼Speaks
▪️Beneficiaries Ladies in Mabuthweni 15 Bulawayo &
▪️ Rev Dr Sarah Nyathi
📍 Dr Mercy Chieza Women's
Empowerment 8m
▪️ Theo Tsana Baron on Health Borehole 8m
▪️ Sarah Garande on Education 8m
▪️ Pumela call to ACTION 5
▪️Entertainment / Advertisement 5 One off donation
▪️ Zambia 🇿🇲 Speaks
▪️Beneficiaries & Brenda Operations Manager Speaks 15
▪️ Pumela call for ACTION 10
Q & A 20minutes
▪️2:00pm – 4:00pm programme | Mingling 1 hr
📍 Closing – Prayer Announcement next Dare to Dream Dare to Fly Gala Dinner & Dance Saturday 24th April 2021 Double Tree Dartford Bridge